14 Aug 2023
Playa Hermosa, where the power of the ocean meets a cool, laid back community.
Playa Hermosa is a destination for many visitors to Costa Rica. Less than two hours from Juan Santamaria international airport, and five minutes from Jacó Beach, Playa Hermosa is ideally located along the central pacific coast. It's a wonderful place to see the Pacific Ocean in all its power and beauty.
For surfers, it's a must-visit location. For yogis, it's a serene place to practice yoga in the midst of raw nature. For the rest of us, it is a beautiful beach town with plenty of things to do.
So, Why Do We Love Playa Hermosa?
Our guests often ask us, "So, what do you do with your time off?" For many of our staff at HRG, the answer is: Grab a couple friends, a couple cold drinks and a beach blanket, and head to Hermosa Beach to watch the sunset.
Even for locals like us, we never tire of the beauty of this beach. After all, hermosa does mean beautiful. It is one of Costa Rica's most well known black sand beaches. The sand is black from volcanic material that has been crushed up and eroded over time.
The dozen-or-so hotels and restaurants on the beach are tucked into palm trees, so when you look up and down the beach, you feel like you are in a completely undeveloped area.
Hermosa has a bit of everything. While Jacó remains the central location for bigger stores, a variety of restaurants, and a hopping nightlife, Hermosa still has a little bit of everything you need. In this small jungle paradise you will find a few excellent cafes, a handful of hotels, yoga shalas, zip lining tours, horseback riding, Costa Rican style beach houses, and some great beachfront restaurants.
Nightlife
The beach bars in Hermosa have the best vibe: local tiki bar meets a cool, vibey scene. You can often find live music and local surf competitions going on. For a little town, Hermosa sure has a lot going on! This is where a lot of locals come to enjoy their time off, and for tourists in-the-know, it is sometimes the highlight of their trip to check out this cool little surf town.
A Place for Yoga
What many people love about Hermosa is that it's close to San Jose and Jaco, but it's still just a little off the beaten path. Nature is still at large here, making it a perfect place for yoga. Two places come to mind: Vida Asana and Hermosa Beach House. These two places offer daily yoga classes. The former in the jungle, the latter right on the beach.
If you take a yoga class in Playa Hermosa and you'll get a feel for what it's like to be a local. Hermosa locals are health conscious, nature loving, and generally happy people.
Wildlife of the Central Pacific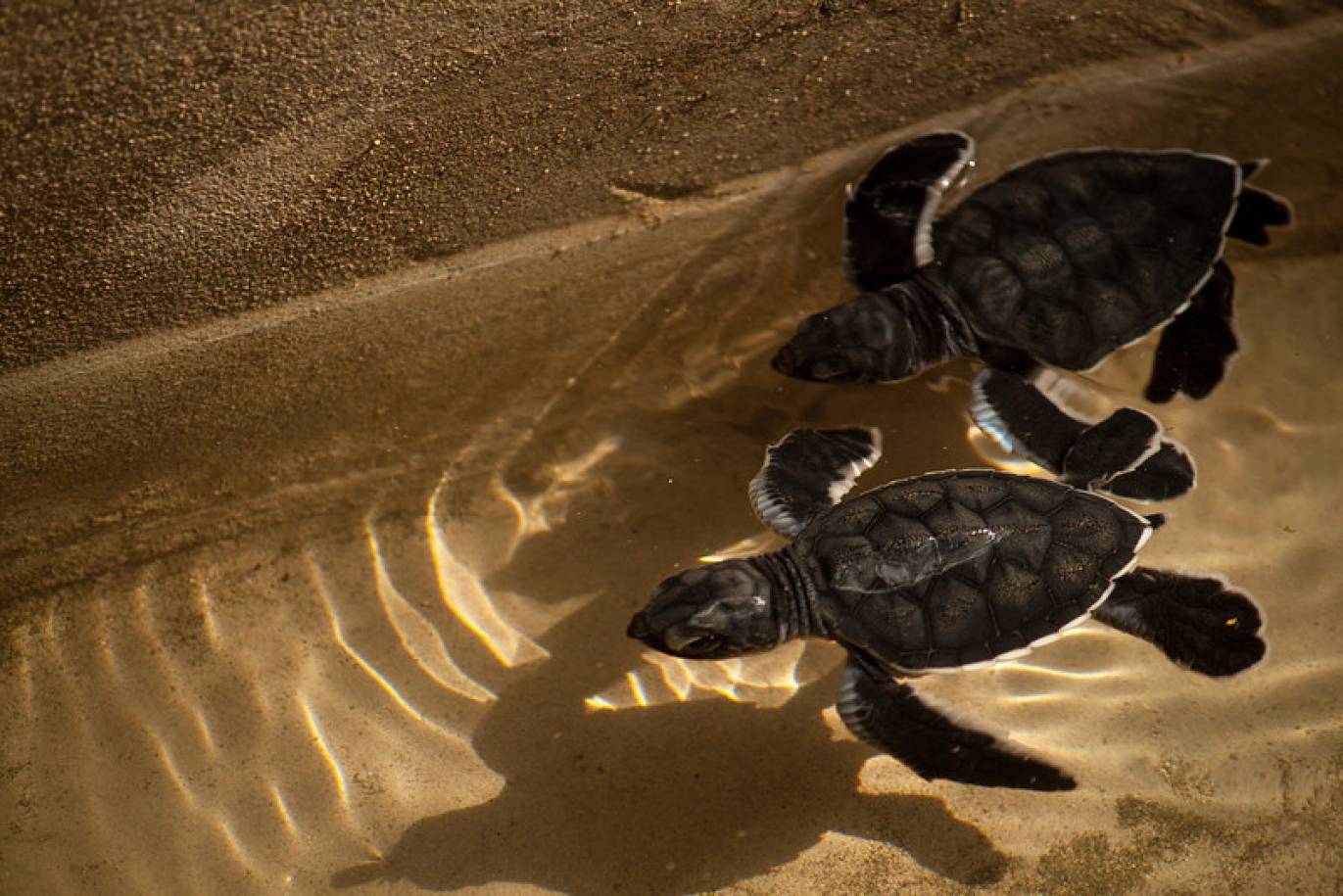 Photo Credit: Connor Waldoch via Flickr CC2.0
Almost as iconic as the waves that break on the shore, are the birds that fly along the coast. The beaches of Puntarenas are filled with Beach Almond trees, which happen to be the favorite snack of the scarlet macaw. You can see these colorful birds flying up and down the beach during daylight.
At night? Playa Hermosa is a wildlife refuge, where thousands of sea turtles lay their eggs each year. Seeing one of these prehistoric creatures lay their eggs, or better yet, watching the babies hatch and crawl back to the sea, is an experience you won't soon forget!
Of course, animals like white faced capuchin monkeys and two-toed sloths are also happy to call Hermosa Beach their home.
Playa Hermosa, the Legendary Surf Break of the Central Pacific Coast
What is Playa Hermosa in the eyes of a surfer?
She's majestic. She's powerful. She's unique. She's raw. She's beautiful. She's Hermosa.
These are some of the words used to describe Playa Hermosa by local surfers. Oftentimes we attribute gender to things like sailboats and fine cars, because they have so much substance and personality that they demand a pronoun. Playa Hermosa may be a beach but she is granted this respect by those who surf in her waves.
Often called the "national stadium of surf" by the local surfing community, Playa Hermosa is a place where riders can come to put their skills to the test. Hermosa has some of the strongest waves from Guanacaste to Pavones and back again.
This beach is one of the most iconic waves in all of Central America. This beach is almost never "flat" and is far from being a swimming beach. The strong swells that hit this beach provide the best surf for advanced surfers year round, and occasionally they are calm enough for intermediate surfers.
Hermosa is four miles long. So, how does a surfer know where to find the best spot to surf?
You can surf up and down the entire beach. Some favorite surf breaks include Terrazas (named after the hotel Terraza del Pacifico), El Árbol, for the big almond tree, and La Curva, where the road takes a turn. There are, of course, consistent waves right in front of the main beach where you'll find the restaurants. Surf Inn Hermosa is home to the surf cam on Surfline.com, where you can watch the waves from your phone or computer 24/7.
If you are looking for surf lessons or surfboards, we always recommend consulting with our trusted surf school in Jaco. It's always best to check with a local before venturing into new waters, and Hermosa is not a surf spot for beginners.
Los Sueños to Hermosa
Many of our guests enjoy checking out Hermosa during their stay with us in Los Sueños. At HRG, we can arrange for your private transportation to Hermosa, about 20 minutes south of the resort.
It's a great place to check out the sunset and enjoy a casual beachfront dinner. The surf scene is always active which our guests love to watch.
Playa Hermosa is on the road coming back from Manuel Antonio National Park to Los Sueños, so many guests enjoy stopping here for sunset drinks at Vida Hermosa on their way back to the resort.
As always, our concierge at HRG is here to help you plan the perfect vacation. For information about recommended spots in Hermosa and any other travel tips, we are here to help you! Come discover what makes Playa Hermosa one of our favorite stops during your Los Sueños vacation.